Here you can find an explanation of the actions found in the Quick Actions Panel.
Quick actions panel
The Quick Actions Panel is a set of actions and toggles to quickly customize the plugin. You can find this panel in many places:
Inside the menu, under Tools → Material Theme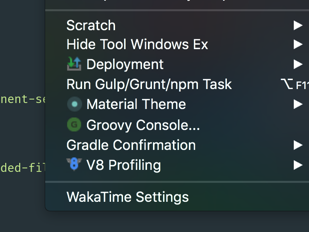 At the end of the main toolbar

As an option of the Quick Switch Panel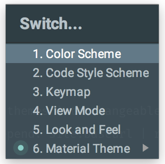 You can also set a shortcut to open every one of its submenus from the Settings → Appearance and Behavior → Keymap → Material Theme settings.
---
Material theme switcher
The first subpanel is a switcher to quickly switch between the themes. There you can find all the available themes plus the two custom themes.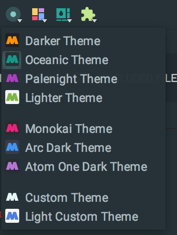 Note:
Since version 6.13, Light and Dark themes are grouped together.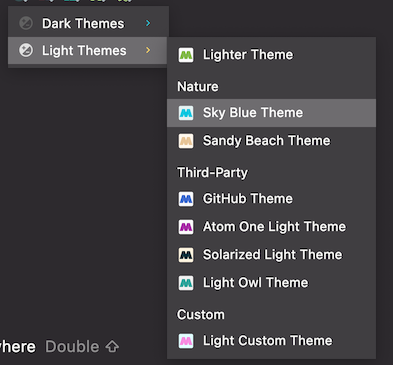 Note: Custom Themes are only available for premium users.
---
Panel Options
Some features are only available for premium users.
This panel allows you to quickly toggle some settings:
Toggle Contrast Mode
Toggle High Contrast
Toggle Compact Item Line Height
Toggle Compact Dropdowns
Toggle Compact Table Cells
Toggle Compact Fields
Toggle Compact Menus
Toggle Compact Status Bar
Toggle Uppercase Tabs
Toggle Custom Tab Font
Indicator Styles
Tab Highlight Position
In addition, there are one-time actions that change the plugin's configuration:
Set Recommended Tab Height: Change the tab height to 42
---
Accent color chooser
This panel provides a set of predefined colors to set up your accent color.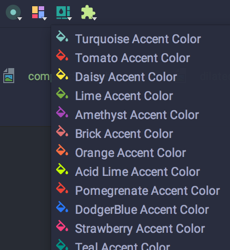 There are also actions to easily toggle the following modes:
Override Accent Color from Theme
Set Accent Mode
Note that the accent color can still be changed in the Settings → Custom Accent Color.
---
Material theme features
Some features are only available for premium users.
This panel as well allows you to quickly toggle the most used Component/Features Settings:
Toggle Tab Separators
Toggle Custom Tree Font
Toggle Custom UI Font
Toggle Colored Directories
Toggle Language Additions
Toggle Focus Mode
Toggle Material Wallpapers
Toggle Outline Buttons
Toggle Overlays
Toggle Animated Tool Windows
Toggle Project Frame Colors
Colorize Title Bar (New UI)
In addition, other one-time actions are available in this panel, which are:
Material Theme Wizard: Open the Material Theme Wizard
Atom Material Icons: Open the Atom Material Icons Plugin page for installation.
Show What's New: Display the "What's new" page.
Reset Color Scheme: Reset the current color scheme, removing all custom changes.
Clean Overlays: Manually remove any lingering overlays.
Apply Custom UI Font: Forcibly triggers a UI Font change.
Undock Tool Windows: Undock all currently available tool windows
Dock Tool Windows: Dock back all currently available tool windows
---
License activation
Activate License: Activate your Premium License, if it's not already done.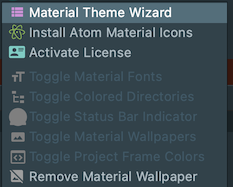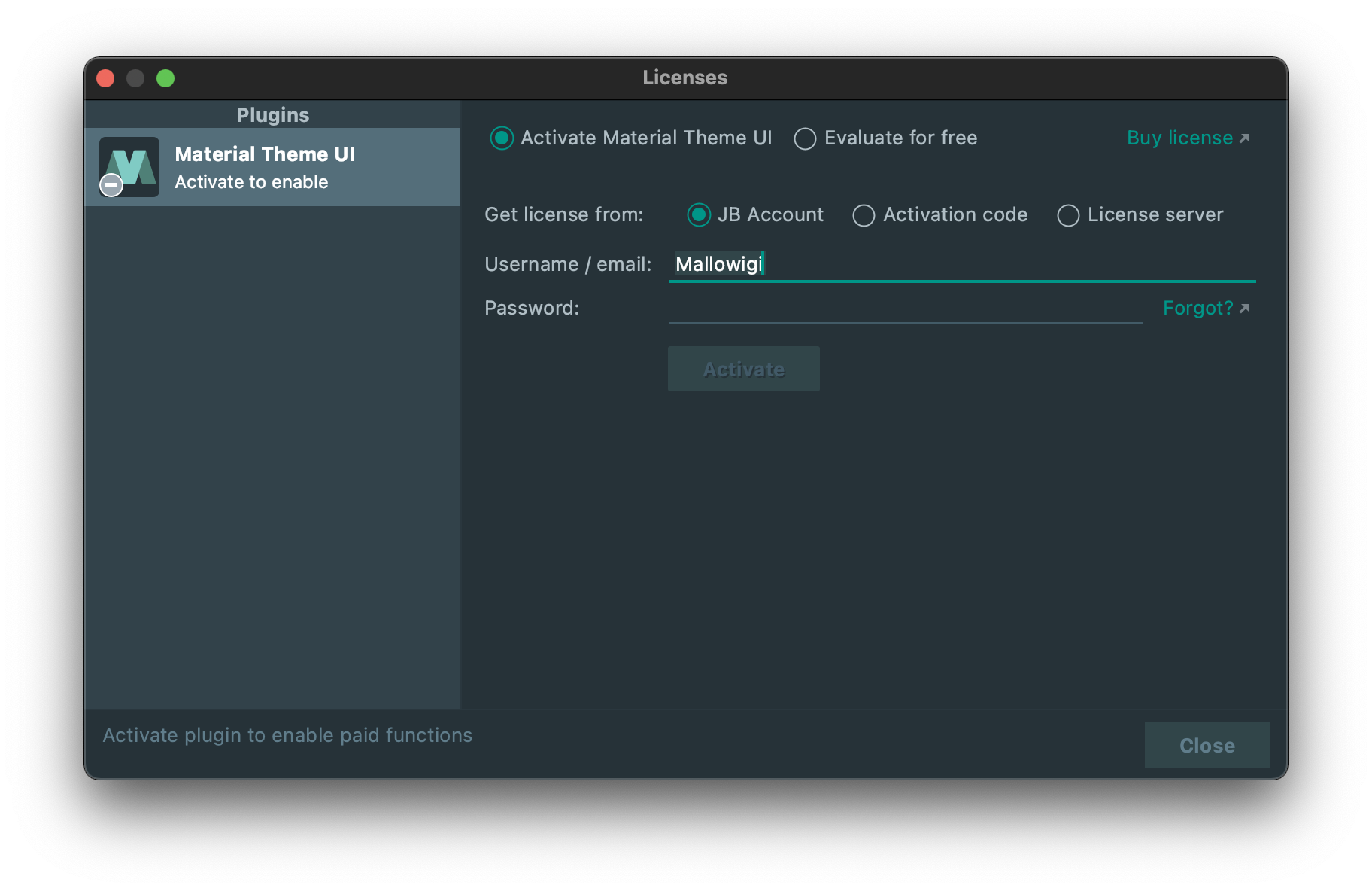 ---
Material wallpapers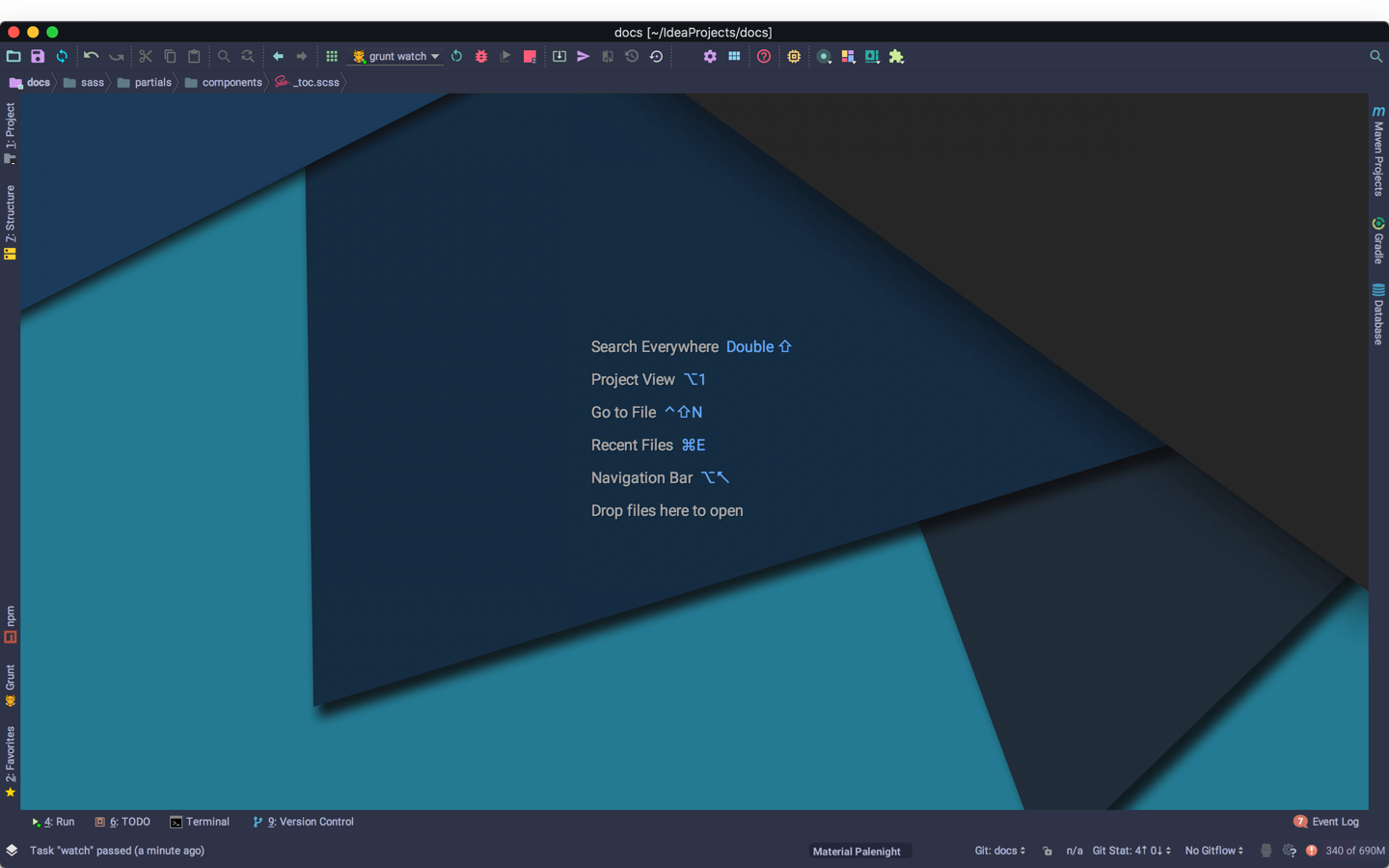 Please note that this is a setting that affects the whole IDE, so actions such as removing/disabling the plugin won't get rid of the background image. You can do so in Settings → Appearance → Background Image.
---